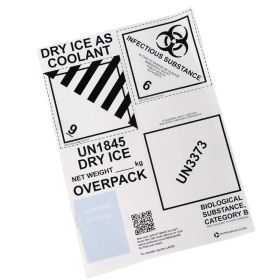 Compliance Labelling
Intelsius offer a wide range of labels frequently used in pharmaceutical and sample transportation.
Label compliance is essential during the transport of dangerous goods, and to help make this process as easy to understand as possible, we have recently updated our label guides.
We have two label guides available to customers; one focuses on when and where to apply labels to achieve compliance., the other looks specifically at using our as temperature-controlled overpacks maintaining your sample's efficacy for periods of up to 120 hours.