We've created this cold chain packaging guide covering everything from cold chain compliance to what phase change material you will need to keep your payload at the right temperature throughout its journey.
You can purchase a variety of cold chain shipping solutions including insulated shipping boxes directly from Intelsius on our website here.
To learn more about cold chain packaging or cold chain compliance, hover and click below or scroll down the page.
What is a Cold Chain?
The term 'cold chain' describes the movement of temperature-sensitive products within a connected network at a specific temperature range.

An example of a working cold chain is a pharmaceutical trial, which involves moving pharma products between a laboratory, a manufacturer, and a healthcare facility. Whether this chain is local (within a city, region, or state), national, or even international, the same principles apply: the payload must be transported throughout this connected chain without significant temperature changes.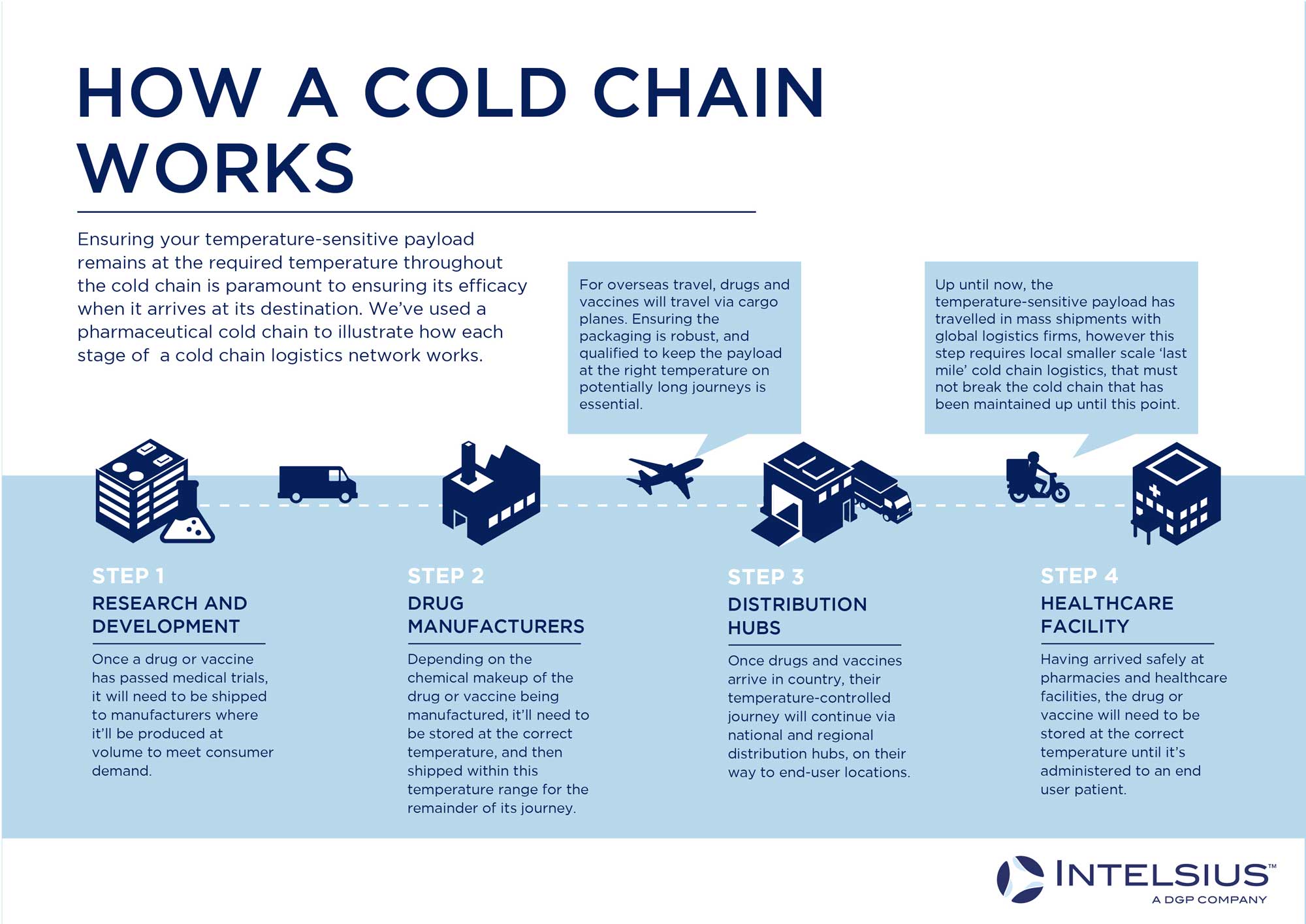 The links in these chains (labs, manufacturing plants, healthcare facilities etc.) need to be connected by transport logistics providers (couriers, haulage, cargo planes, etc.), all of whom must be equipped to carry the relevant hardware (fridges, freezers) to ensure your payload stays within the required temperature range. The combination of these links and keeping a payload within a specific temperature range constitutes a working cold chain.
To successfully link a cold chain together, you need to use high-quality, compliant cold chain packaging solutions such as ORCA insulated shipping boxes that are the correct size and qualified for the correct temperature range and duration for your payload. Before helping you understand how to choose the right solution for your payload, let's look at how cold chain packaging works.
How Does Cold Chain Packaging Work?
There are two main ways to move temperature-sensitive products: passive provision or active provision of temperature control. We've written this helpful guide to learn more about the key differences and what you should consider before choosing active or passive solutions.

This guide will focus solely on passive cold chain packaging solutions.
Passive cold chain packaging is made up of three core components:
1. Outer packaging
2. Insulation
3. Phase change material

Outer Packaging
Insulated shipping boxes typically come with two types of outer packaging: Fluted polypropylene (Correx) or corrugated cardboard. Corrugated cardboard is ideal for single-use packaging as it can provide all the protection required from the external elements but be readily disposed of after receipt of the shipment. Fluted polypropylene has the added benefits of being waterproof and provides a more rigid casing than cardboard and is best suited for use in multi-use systems.

Insulation (often expanded polystyrene or vacuum insulated panels)
The first layer of thermal protection for the product payload is insulation. The purpose of the insulated packaging is to reduce the flow of cold or warm air moving between the inside and outside of the packaging.

The two main types of insulated packaging used within temperature-controlled packaging (TCP) are foam-based insulations (expanded polystyrene, polyurethane) and vacuum insulation panels (VIP). Foam-based insulations are typically moulded assemblies with lid and base components, whereas VIPs are assembled into the form of a cuboid from sets of 6 or more panels. Foam-based materials are made from plastic-based raw materials, and the air is trapped within these structures to form the insulation. VIPs utilise a rigid core material of fumed silica or fibreglass, which is then vacuum sealed within a gas-tight bag to remove the presence of air and thus the flow of energy from outside of the packaging to inside.
VIP insulation performs significantly better than foam insulations when it comes to temperature loss. For example, a system built using Expanded Polystyrene could require up to five times the thickness of insulation compared to VIP, meaning that the use of VIP can significantly reduce the overall size of a packaging system.
The below graph illustrates how VIP insulation performs vs EPS when comparing both materials when using dry ice as a coolant.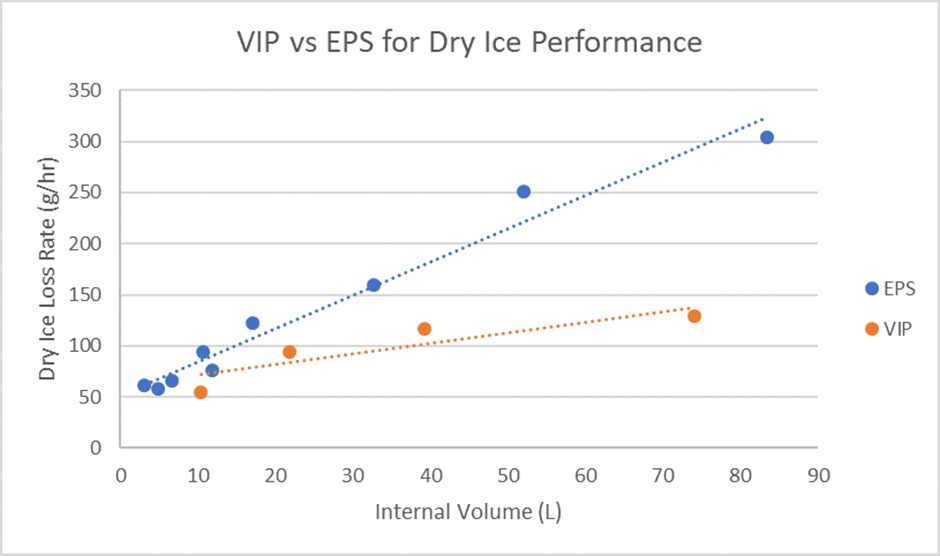 Phase Change Material (PCM)
Phase change materials form the next layer of thermal protection for your payload product.

Firstly, it's helpful to understand what we mean by 'phase change'. There are three states where materials typically exist: Solid, Liquid and Gas. To change between these states, the material needs to absorb or release energy. It is this change in energy state which is so important to how phase change materials work.
There are many different types of PCMs: organic, inorganic and eutectic, that come from many sources such as petrochemicals, fatty acids, water and, salt and water solutions, each with their unique thermal properties. By matching the melting temperature of the PCM to the desired temperature range of the shipment, there is greater thermal stability within the packaging which in turn provides better protection to the payload in transit.
Think of PCM as a rechargeable battery but instead of holding electrical energy, it can store and release large amounts of thermal energy. A +5 PCM in its solid state is 100% charged for use in a 2-8 shipment in a warm environment; as the external thermal strain melts the PCM, the charge reduces, reaching 0% when fully melted. During this process, the PCM changes from solid to liquid, but there are instances where a PCM may change from liquid to solid (shipping a 15-25 system prepared with liquid PCM into a cold environment) or even solid to gas (a system shipped with dry ice as the coolant).
The amount of battery charge of a PCM is dependent on the thermal strain that the packaging is subjected to in transit, as well as the capabilities of the material to release and absorb this energy. Some PCMs can be paused or even recharged during transit if the complete packaging system is stored in the correct environment.
For a full understanding of how PCMs work, we have created a useful white paper on PCMs, which you can access here.
Choosing Your Solution
Knowing what cold chain packaging to use for your specific payload and shipping lane can seem complicated. Numerous payload types require temperature control in transit; blood, urine, tissue, pharmaceutical and biopharmaceutical products, enzymes, reagents and many more may need to be kept cold in order to retain efficacy.

Below, we've outlined some of the main considerations when choosing how to ship your temperature-sensitive payloads:
1. Payload volume (litres)
2. Duration (hours)
3. Temperature range
4. Pre-conditioning (yes or no)
5. Single or multi-use
6. Payload visibility
Payload Volume
Depending on what temperature-sensitive cargo you're shipping, and the volume you're shipping it in, you may be able to use one, small temperature-controlled solution. However, if you're transporting bulk quantities of pharmaceutical products you may require larger, pallet-sized, or even multiple solutions.

Duration
Duration relates to the number of hours a cold chain solution will keep your product at the correct temperature. Depending on the distance you're sending your payload, the external thermal environment, and the shipping choices you make (road, sea, air, etc.), you'll need to select a solution that will maintain your desired temperature range for as long as you need it to.

Temperature Range
Before purchasing cold chain packaging, you should understand the temperature range your payload requires to retain efficacy. Whether it's -70°C or 2°C – 8°C, you'll need your solution to come with the correct phase change material.

Pre-Conditioning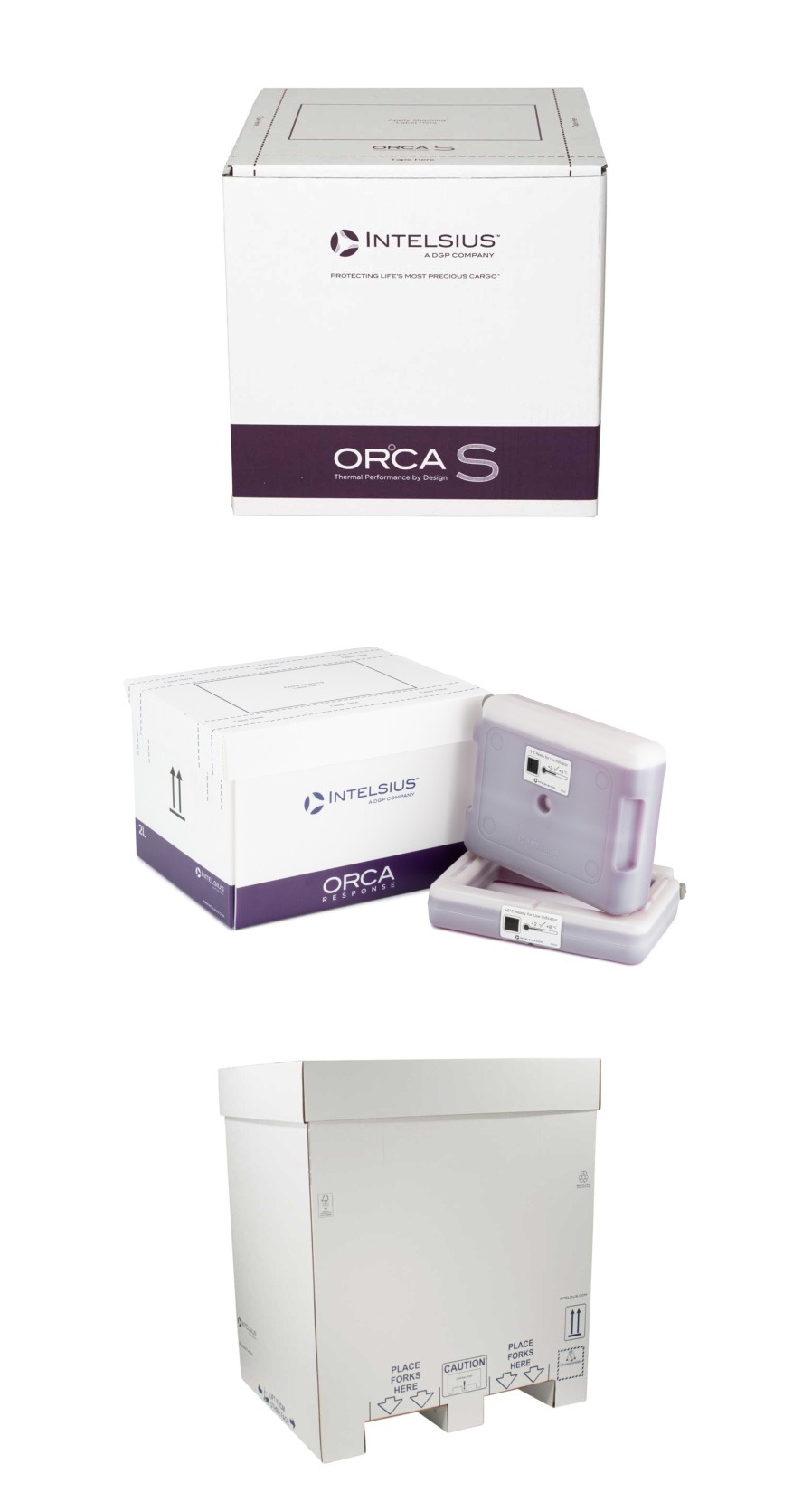 Intelsius can pre-condition the majority of our cold chain packaging solutions to meet your need. If you require your solution to arrive ready for you to just add your payload, make sure to request this upon purchase. If you choose not to have a pre-conditioned solution, you'll receive the box and PCMs that will then need to be conditioned to your desired temperature range.
Single or Multi-Use
Depending on what you're shipping, and how many times you need to ship it will influence whether you require a single-use or multi-use solution. Intelsius provide both single-use and multi-use solutions as part of our ORCA range and would suggest investing in a multiple-use system for when you're shipping your specific payload more than once, or between multiple locations.

Payload Visibility
Intelsius also offer connected, cold chain packaging solutions with an onboard data logger, allowing you to track internal and external temperatures and GPS location. For extra oversight of your payload in transit, we recommend connected solutions such as our ORCA Connect system.

All our cold chain packaging solutions and their various payload sizes, temperature ranges, and durations are available to purchase via our Online Store.
Guidelines and Compliance
Depending on where you're shipping your temperature-sensitive substances to and from, you'll encounter a specific set of guidelines published and overseen by a region/continent/nation-specific organisation or government department. Links to relevant regulators and guidelines have been linked below.
If you're transporting goods that could cause harm to humans or animals, it's imperative that you follow the United Nations' guidelines on transporting Infectious Substances. We have created a separate guide on how to ship Category A and B Infectious Substances on our website,here.
U.S. – Food and Drug Administration (FDA)
21 CFR 205.50Minimum requirements for the storage and handling of prescription drugs and for the establishment and maintenance of prescription drug distribution records. Refers to the minimum requirements for the storage and handling of drugs and specifically details the requirement for temperature recording and record keeping.
21CFR 203.32Drug sample storage and handling requirements. Refers to the need to maintain the drugs under conditions to maintain stability, integrity and effectiveness as per the manufacture's specifications
21 CFR 203.36Fulfillment houses, shipping and mailing services, co-marketing agreements, and third-party recordkeeping. Refers to the responsibility for maintaining forms, reports and records used to meet requirements
21 CFR 211.150Distribution procedures. Refers to the procedure of how drugs are to be distributed
21 CFR Part 11ELECTRONIC RECORDS, ELECTRONIC SIGNATURES Refers to the regulations and criteria in which the agency considers electronic records and signatures trustworthy
Food Safety Modernization Act (FSMA) Information on the Food Safety Modernization Act from CFSAN
Current Good Manufacturing Practices (CGMPs) Updates to Current Good Manufacturing Practice, Hazard Analysis, and Risk-Based Preventive Controls for Human Food
Foreign Supplier Verification Programs (FSVP) The FDA FSMA final rule on Foreign Supplier Verification Programs (FSVP) for Importers of Food for Humans and Animals
Canada and Centres for Disease Control (CDC)
CDC-Guidelines for Maintaining and Managing the Vaccine Cold Chain
CRC (c.870) Canadian Food and Drug regulation
Guidelines for Temperature Control of Drug Products during storage and Transportation (GUI-0069) Canada
National Vaccine Storage and Handling Guidelines for Immunization Providers 2015
CDC-Vaccine Storage and Handling
Canadian Government Health Publication
European Commission
Commission Guideline 2015/C 95/01 on Good Distribution Practice of Medicinal Products for Human use
GDP (EMA- Good Distribution Practices)
World Health Origination (WHO)
Guidelines on the International packaging and shipping of vaccines
Codex Alimentarius- International Food Standards