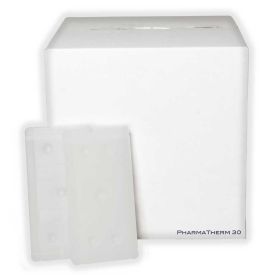 PharmaTherm 15-25C Solutions - High Performance
The INTELSIUS PHARMATHERM insulated shipping systems are designed to offer optimal thermal protection for pharmaceutical products. These shipping systems are pre-qualified to maintain payload integrity during shipments for up to 120+ hours. It is tested against Intelsius' demanding High Performance Dry Ice temperature, 2-8°C profiles and 15-25°C profiles. This test profile is designed to give users confidence that the quality and efficacy of their payloads will not be compromised during even the most demanding of global cold chain shipping lanes.
The PHARMATHERM range is designed to ensure efficient use of shipping volume enabling minimal freight costs. High density EPS insulated shippers are utilized for optimal thermal protection.